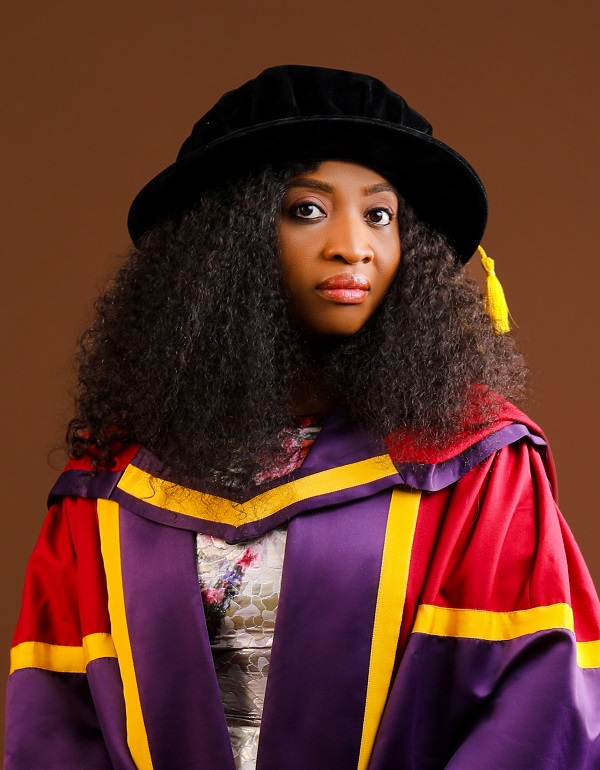 Ogechi Adeola is a Professor of Marketing and the Head of the Department of Operations, Marketing, and Information Systems at the Lagos Business School, Pan-Atlantic University, Nigeria.  Adeola holds a doctorate in Business Administration and a Master of Business Administration from Manchester Business School, United Kingdom. She also earned a Bachelor of Laws degree from the University of Nigeria and obtained a Barrister at Law certificate from the Nigerian Law School, after which she was called to the Nigerian bar. She serves as an Independent Non-Executive Director of Cornerstone Insurance Plc, Nigeria, a member of the Governing Board of the University of Kigali, Rwanda, and a Business Administration Advisory Board member of the University of the People, California, USA. Before her academic career, she spent over a decade in various roles within Nigeria's financial sector, notably starting her journey at Citibank Nigeria.
Adeola's research interests encompass marketing, strategy, tourism, and gender studies, with a particular focus on projecting a positive image for Africa.  Her scholarly works include over 100 academic and practitioner articles, books, conference papers, and business and marketing case studies. Her academic papers have been published in top peer-reviewed journals such as the Journal of International Business Studies, Annals of Tourism Research, Tourism Management, Journal of Business Research, Industrial Marketing Management, Psychology and Marketing, and International Marketing Review. Her co-authored papers also won Best Paper Awards at international conferences in the years 2016-2019, consecutively, and the prestigious Emerald Literati Award for Outstanding Paper in 2022. Additionally, her co-authored contributions have been published in esteemed, high-ranking academic journals, including those with prestigious ABS 3, 4, and 4* rankings assigned by the Chartered Association of Business Schools (ABS).
Professor Adeola's work has garnered both national and international acclaim, earning her rankings as one of the top scientists in her field in Nigeria and Africa. She ranked the No. 2 scientist in Nigeria for Marketing, the No. 6 scientist in Nigeria for Business & Management, and among the top 10 scientists in Africa for Marketing, according to the global January 2023 Alper-Doger Scientific Index. SciVal (Elsevier) ranked her among the top 100 scholars in Nigeria across all disciplines during the period 2020 to 2023.
Apart from her research achievements, Adeola has excelled in teaching and mentoring students. She has taught marketing sessions at the Women Entrepreneurship & Leadership for Africa (WELA) program of the China Europe International Business School (CEIBS) held in Lagos, the MSc program at the University of Ghana Business School, and the PhD program at the University of Professional Studies Accra (UPSA). She is also an MBA Program External Moderator at the University of Free State Business School, South Africa, and a PhD program External Examiner at Kwame Nkrumah University of Science & Technology (KNUST); Gordon Institute of Business Science (GIBS), University of Pretoria, South Africa; and Strathmore University, Kenya. She is a 2016 Visiting International Fellow at the Open University Business School, Milton Keynes, United Kingdom, and a 2017 Paul R. Lawrence Fellow, USA.
Adeola has provided strategic marketing and brand management consultancy, intra-regional advisory, and gender equity services to numerous organisations. She is part of the Alpha Team at the Centre for Global Enterprise, USA, and has provided virtual consultancy services to top international companies, including London Taxi Company, UK in 2015; the Texas Capital Bank, USA in 2018; and Dusit International (Dusit Thani), Thailand in 2021. Adeola is also a Consultant for Afreximbank, focusing on the African Sub-Sovereign Governments Network (AfSNET) Initiative.
With a keen interest in women's empowerment, Adeola served in 2022 as the National Consultant for an International Labour Organization project aimed at promoting women's economic empowerment in Nigeria. In March 2022, she received the prestigious Female Achievers' Recognition Award, acknowledging her significant contribution to women's empowerment, hosted by American Corner and other esteemed organisations in Lagos. In June 2023, she was honoured by The Peak Performer with The Peak Performing Woman of the Year 2023 Award in the Super Achievers category for Executive Education. Adeola is a Fellow of the Institute of Strategic Management, Nigeria, and the National Institute of Marketing of Nigeria.